Adopt your own greyhound
Greyhounds are awesome pets for many families. Short-haired, low-exercise, usually silent, and happy to sleep for long periods while the family are out - these are just some of the traits that make them popular pets.
Most greyhounds are good with children, and many can be trained to live with other pets including cats.
Ex-racing greyhounds are not usually "rescues", most have been lovingly cared for during their racing career. However many need homes when they finish racing and have many years of love to give to their new family.
Greyhounds of all ages are available for adoption from Nightrave, from some other agencies and sometimes direct from their trainers. When you adopt a dog from Nightrave, you know that your new pet has learned some basic skills by attending classes at the Feilding Dog Training Club, and has been living indoors in the house and learning about pet life. All greyhounds from Nightrave are desexed, health checked, wormed, fleaed, microchipped and registered.
Greyhounds need a warm, comfy bed to sleep on, need coats in the wintertime, and need lots of love. If you think a greyhound might be right for you, contact us today! Cost: The cost to adopt a greyhound from Nightrave is $350.00. This includes a free collar, leash and muzzle. Contact us on nightravegreys@gmail.com for more information.
Dogs for Adoption
Sharkie
Gorgeous Sharkie is 3 years old and hopes that you are his new family. Sharkie is fabulous with all other dogs, even a little bit shy, and could live alone or with a friend. He can stay home while you work. Sharkie is house-trained, crate trained, has lovely leash manners, and can't wait to join his new family. He is a little unsure of very small children, so older kids or a crate will be perfect for him. Sharkie can be trained to live with a confident cat.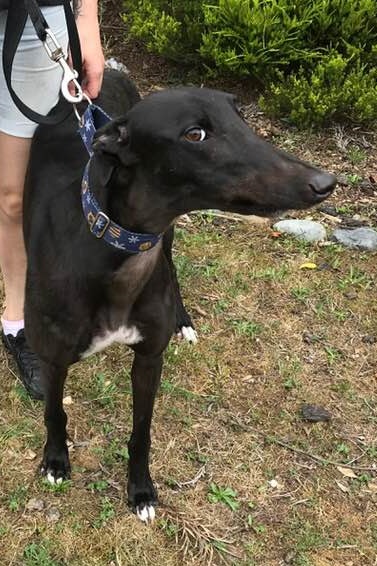 Hunter
What a lovely dog Hunter is! Perfect with all other dogs, and even trainable to live with a confident cat. Hunter could live alone or with a friend, he is crate trained, is good on the leash, enjoys walks and dog training activities. Hunter is fairly bouncy so should not live with very small children, and would possibly suit a quieter family best. Hunter is four years old - wouldn't you like to add this beautiful young man to your household?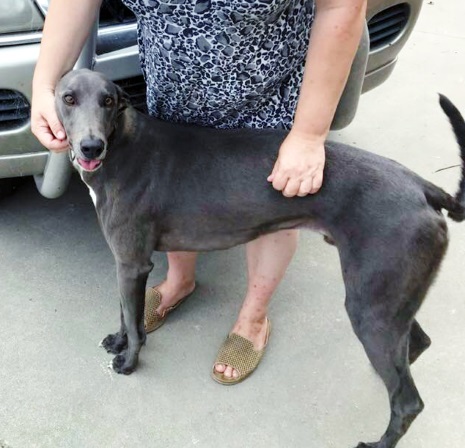 Rory
Rory thinks life is all about her. She would love a home with another dog, where she gets plenty of playtime. Although crate trained, Rory prefers the couch or your bed so some further training is required! Rory can be trained to live with a confident cat. She can stay home while you work as long as she has a doggy friend for company.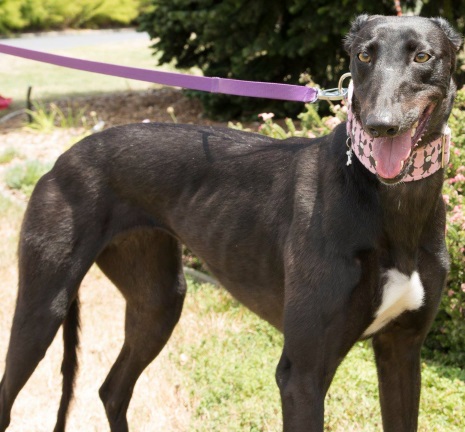 Grace
What a gorgeous girl Grace is. You will need a sense of humour and a sense of adventure, because she'll keep you laughing -- and on your toes. She is 3 years old and happy to stay home alone while you work or is happy to live with a male dog of any breed. A male with a calmer temperament may provide a steadying influence on this madcap beauty! At home she is a live wire. She will chase her (canine) friends, bark for playtime, take you by the hand and lead you off for cuddles. Out and about, she is the sweetest thing, polite with all dogs, brilliant on the leash, gentle with people. (It's all an act! Don't leave her in the car with the tasty groceries!) Gracie cannot live with cats, and may play too rough for toddlers (although she loves all children). Gracie generally is growly and dominant with other females and therefore should not be offleashed with unknown dogs.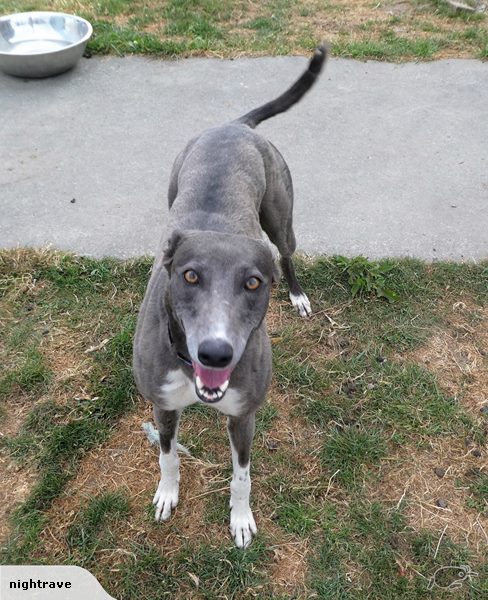 Rocky
Calm, clever Rocky would prefer to live as an only dog. He is 5 years old, good with other dogs and kids, and can happily stay home while you work in the yard. He fancies himself a bit of a guard dog and will bark when people arrive or things are happening around your home. No cats please.
Slippers
Smart, stunning Slippers (also known as Slippery) will make a delightful addition to any family. He's a big stunning boy, trainable to live with a confident cat, and lovely with dogs of all sizes. He can be a wee bit nervous with boisterous, pushy dogs. Slippers can stay home while you work, has brilliant leash manners and is a quick learner. He is four years old.
Ed
Darling Ed is brilliant with children (including toddlers), completely house trained, perfect on the lead - the perfect dog! However our Ed has a quirk, if he feels like he needs to protect you from other dogs, he WILL. So Ed needs a confident, experienced owner who would maybe like to do some obedience training, trick training or even just lots of walks (or lots of games with the kids) to keep his smart brain active. Ed is five years old, and is great with all other dogs when reminded of his manners and, as above, when he feels confident in his handler. Ed can't stay home alone, but he can stay home with another doggy friend. Absolutely no cats, dog parks or dog beaches. Dog training clubs are perfect, he already knows how to sit and will excel. Could Ed be the perfect addition to your family?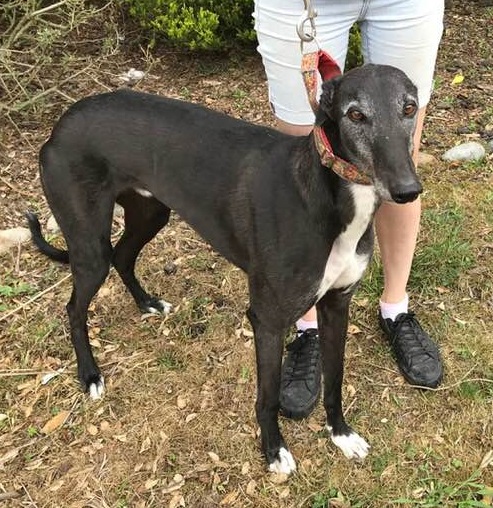 Charlie
Playful, bouncy Charlie (unraced) wants a home where he can be kept busy! He would enjoy obedience training or other dog sport training although will not suit agility. Charlie loves other dogs but is a little full on. He can live alone or with another greyhound, or with another dog he has had the opportunity to meet first to ensure his playful nature will be understood! Charlie can stay home while you work. He loves going for walks, but needs a secure fence as he is adept at "the weasel" and will take HIMSELF for a walk if not securely confined. He is housetrained and crate trained. Absolutely no cats or chickens please. Charlie is 3 years old.
Ohio
Ohio is a smart brindle boy who can't wait to find his new family. Ohio could live as an only dog or with a friend, and although he can stay home while you work, he would prefer not to be left completely alone for 8 hours every day. Ohio has nice leash manners and is house trained. He should stay in the yard while you are out. Ohio is three years old and has a huge amount of love to give his new family - could that be you? No cats please.
Max
Max is a cute boy who would love to live with another dog for company. He is dog friendly with all breeds, but can sometimes be pushy which can make small or timid dogs nervous. No offleashing for this lovely boy. Max has improving leash manners, is mostly house trained, and loves all people. Max is crate trained and an inquisitive, clever dog - he would like a job and would enjoy dog training or similar activities. Max could stay home while you work, outside, with a doggy friend.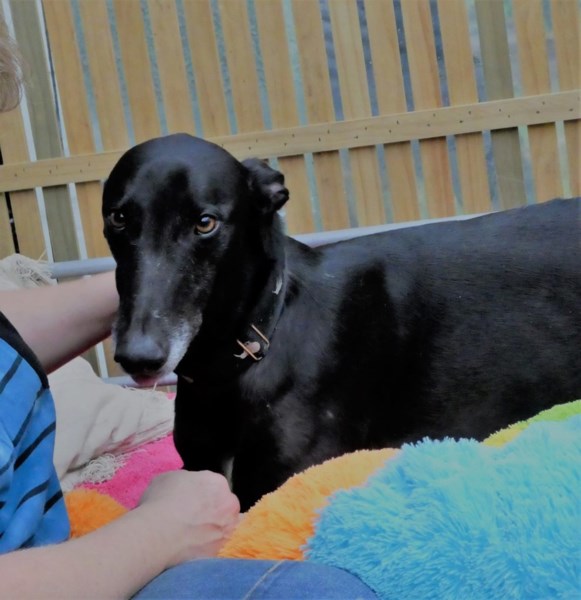 Zandie
Stunning Zandie is looking for a special home. He's friendly with all dogs but exuberant and a little rude, so no off-leashing please. Zandie can stay home alone but not for long long days, perhaps a medium-large doggy friend? No cats or chickens, please. Zandie is 5 years old, and would really like to be a model, he loves to be admired and cuddled - at least one of his siblings is a Canine Friends therapy dog and he may be suitable for this with some more training. Zandie loves dog obedience class and is quick to learn. He loves all people including kids but is a bit big and bouncy, so older children would be best.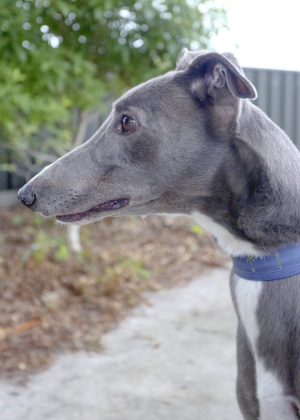 ---
Dogs named above are ready now - there are more dogs at Nightrave learning about living in a home, interacting with families, meeting other pets and walking in parks, cities and farmland. Want a greyhound to share your life but none of the above sound like a good fit for your family? Drop us an email on nightravegreys@gmail.com and let's see if we can help.