Shop for your Hound
Martingale Collars
These collars are fully adjustable and triple stitched at stress points to prevent breaking and prolong durability. Collars are 1 inch or 1.5 inch wide, which is suitable for most greyhounds, as well as other medium/large size dogs (dalmations, collies, schnauzers, staffies, standard poodles, Weimaraner, GSP, Blue Heeler, doberman, pointer etc). Collars easily adjust from 30cm to 50cm around the neck.
A martingale is a type of dog collar that provides more control over the dog without the choking effect of a slip or buckle collar.
Martingale collars were designed for dogs whose necks are larger than their heads (like greyhounds, whippets, italian greyhounds, and other sighthounds); but martingale collars have gained popularity among other breed owners who prefer the gentle control of a martingale collar over a choke chain or a buckle collar, owners of dogs who try to back out of their traditional buckle collars, and agility and flyball trainers who want a handle on their dog's collar at all times.
To learn more about how martingale collars work, please check out:
http://www.collargirl.com/how_martingale_work.htm
Smaller whippet collars coming soon.
Shop Now!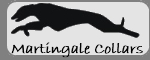 Clip collars
Clip collars are not suitable for everyday use by most greyhounds, as unless they are fitted very tightly, there is a chance the greyhound could slip the collar. However they are essential for competing in agility, flygility or Rally-O.
They are also perfect for your dog's non-greyhound friends and family members!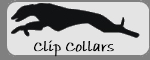 Leashes
Web leads available in a variety of colours. Many of the collars above also have matching leashes available. All leashes are 1.2 metres long (an excellent everyday length).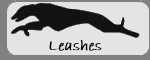 Training Aids
Long lines are essential for teaching your greyhound recall and other obedience exercises. They are NOT suited for everyday walking or tying your dog up! Available in a wide variety of colours. 6 metres long or length by request.
Anti-Gorge Bowls are great for hounds who bolt their food and suffer gastric disturbances in consequence! Large size, durable safe plastic.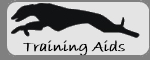 Coats
Designer Pyjamas / Winter Coats
Nightrave are firm believers in two things -- the benefits of natural products, where possible, for our hounds, and the importance of recycling and repurposing in this throwaway age. Our beautiful coats are one-off pieces made primarily with vintage and recycled materials, and usually lined with pure wool. See each item for its description.
If you want a specific colour or size please email us on nightravegreys@gmail.com and we can make a coat to your specifications.
Designer rain coat range coming soon - polar-fleece lined for ease of drying.